November LSAT scores came out Wednesday morning, even for those students who retested on November 23. According to LSAC data, just under 25,000 test takers took the exam in November, a 14% decrease from 2020. 
If you are planning to retake one of the Winter 2022 options, the February LSAT registration deadline is on December 29. But before you make any weighty decisions about more LSAT testing, let's look at a couple of factors.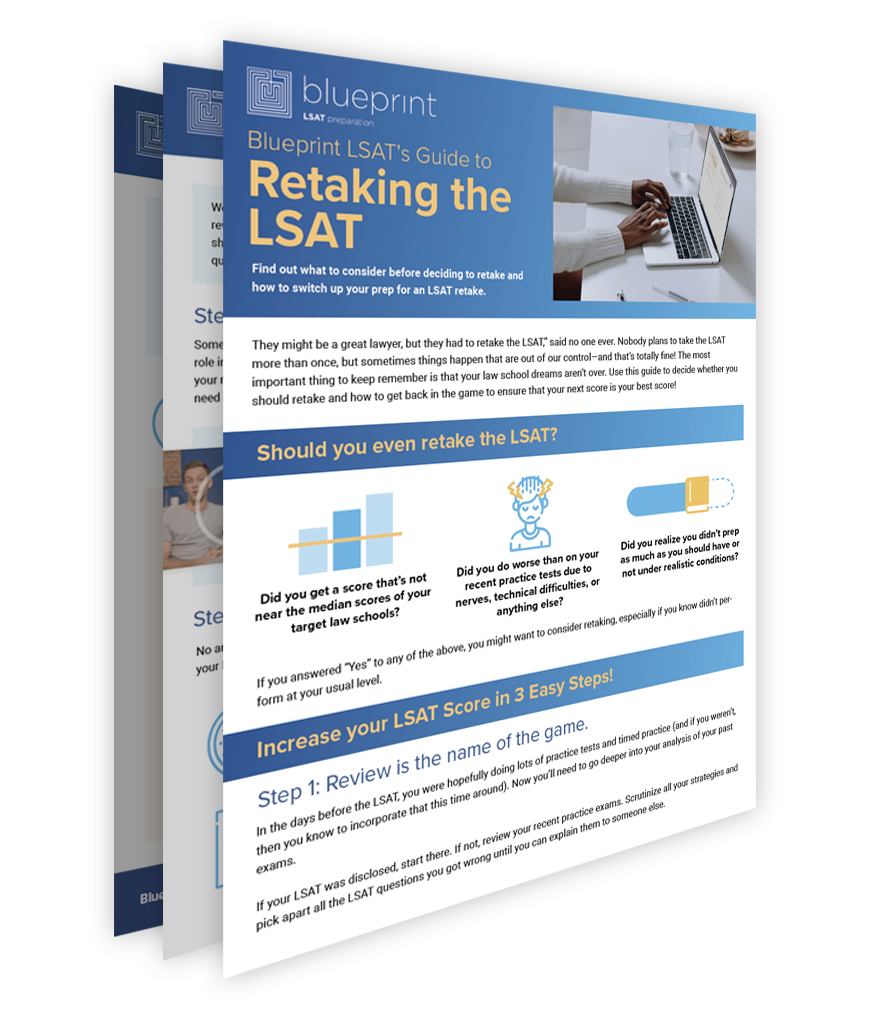 Thinking about retaking the LSAT? Download our free Guide to Retaking the LSAT!
Find out if you should retake, how it can affect your law school application, and how to switch up your prep.
For many of you taking the November LSAT, thoughts immediately following were that it felt like a "tough" exam. Turns out that was probably a pretty fair assessment. Not to say that the LSAT is ever easy, but relatively speaking, the LSAT curve is likely to have a little give on this test. If you think of a 170 normally being about minus seven questions (-7), the November 2021 test was probably more like a -8 or -9. This seemed to hold particularly true in Reading Comp.
In Reading Comp, there were several different sections floating around. From our own estimates of which sections counted towards your November LSAT scores, if you saw topics on indigenous autonomy, work hours and consumerism, Whig history, and hydrogen cars, this was likely real. 
But there was another likely-scored Reading section about plays being adapted in foreign countries, rock inscriptions regarding the Crab Nebula supernova, placebo drug research, and copyright versus trademark law. Both of these sections had passages (Whigs, copyright/trademark law) that were arguably quite tough, even by the LSAT's rigorous standards.
Moving on to Logic Games there again seemed to be two real sections that test takers could have seen, not to mention two separate experimental Logic Games sections that might have shown up on your exam. Either way, there were some real puzzles to work out last month. 
Whether you had a Logic Games section on bank branches, apartments, and pillars, or film editors, senior/junior vice presidents, and workday schedules, these were causing trouble for enough test takers that it pushed the whole section into being tougher than your average bear…er… Logic Games section to get through in 35 minutes.
As for Logical Reasoning, there's really not too much to talk about here for the November test, other than Weaken questions continue to be a running favorite of LSAC. But this is not really even news at this point.
In other related law school admissions news, this month's LSAT score release follows on the heels of the November 19th vote by the Council of the American Bar Association's Section of Legal Education and Admissions to the Bar to allow law schools to accept applicants' scores from the Graduate Record Examination (GRE) instead of the LSAT.
 In recent years there's been a slow and steady movement of law schools announcing they'd accept the GRE as part of the admissions process, but the ABA has stayed silent on whether that was okay. Whether this makes any difference in the admissions cycle will be interesting to watch.
Still, there's no doubt the LSAT—and its preparation process—play a huge role in introducing students to logic and the critical thinking skills needed for law school. The LSAT isn't going anywhere anytime soon.
If you received your November LSAT scores and you're thinking about retaking the LSAT, start with our Guide to Retaking the LSAT. You'll find helpful nuggets of advice to help you determine whether retaking is beneficial for you, as well as how to change up your LSAT prep the second time around. 
Search the Blog
Free LSAT Practice Account
Sign up for a free Blueprint LSAT account and get access to a free trial of the Self-Paced Course and a free practice LSAT with a detailed score report, mind-blowing analytics, and explanatory videos.
Learn More